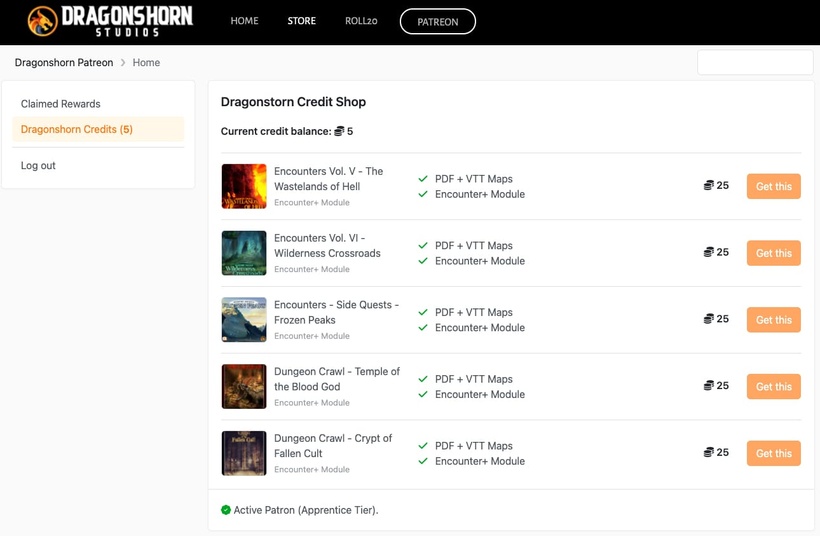 New Rewards + New Reward Management Page!
A new month has begun, and I have good news! Starting May 2022, I have added new rewards to each existing tier – with no action needed on your part!
Dragonshorn Credits

Dragonshorn Credits allow you to occasionally get an adventure from the monthly book backlog for free! Each Patreon tier receives a different amount of credits:
Apprentice – 5 points per month
Blacksmith – 10 points per month
Craftsmaster – 25 points per month
A book in the credits store costs 25 points.
Dragonshorn Store Discount
Every Patron will now get a discount on our store! Depending on your pledge, the discount will be different:
Apprentice – 5% discount
Blacksmith – 10% discount
Craftsmaster – 20% discount
You will need to message me to get the discount code, but in the future, our store will allow you to connect to Patreon and apply the discount automatically!
New Reward Management Page
A new Reward Management Page is available that allows for easy claiming of the rewards and accessing the Credit store. The site will allow you to select which VTT you use independently of the tier you are in case of monthly books. If you find any problems with the page, feel free to contact me!
You can visit the site here: Dragonshorn Studios Patreon Rewards.